BRANDING
All our products can be branded with your logo and your company colours. Each product has standard colours of green, black, blue and red however bespoke colours can be sourced at an additional price, please contact us with your requirements.
The wire trolleys can have your logo printed onto the handle, and the handles and end caps coloured with your company colours. The trolley can either remain the traditional colour or you can have them colour coated, however this is quantity dependent. With our plastic Polycart trolleys your logo can be printed onto the handle and you can choose the gate/child seat/crate colour. The wire shopping baskets can have handles the colour of your choice. The basket itself can also be colour coated however this is quantity dependant. With our plastic baskets your logo can be placed on the side and they come in a choice of 4 colours - blue, green, red and (recycled) black.
If your business is re-branding we can rebrand your current trolleys & baskets, meaning the handles can change colour and a new logo can be added where applicable instead of buying new stock. We will also keep hold of your artwork and colour choice ready for your next purchase, so you do not need to worry about remembering to ask for branding and remembering the colours.
Contact us with your requirements today.
MAINTENANCE & SERVICING
No matter how long you have had your trolleys and where you got them from, we have engineers that will come to you and replace/repair what they can. They may recommend that you buy a new one if your current one is not worth fixing. Our engineers can replace and fix castors, child seats and handles. If your company is re-branding, they can also change the colours of your handles and end caps and have new logos printed.
We also offer trolley servicing where your trolleys will be picked up and taken for up to 4 weeks to be refurbished. This includes cleaning, checks for faults and any hazards, spot welding, replacing of anything that is needed and re plating, so they look shiny and new again, this service starts at as little as £3.50 per trolley. Whilst we have your trolleys we will replace them with some temporary ones so you do not have to worry about hiring them or being without them. This service is a great, cheap way to keep your customers safe and maximise their shopping experience without buying a whole new fleet of trolleys.
Contact us if this is something you are interested in.
SPARES
Shopping Trolleys are an expensive purchase and it is important to be able to maintain them and keep them going for as long as possible in order to keep costs to a minimum. To keep trolleys off the scrap heap most trolley manufacturers make it relatively easy to replace certain parts.
We have a large spares department at our workshop that has all makes and styles of trolley handles, end caps, baby seats, wheels and castors. These tend to be the most ordered spare parts.
We also offer a handle printing service so if you re-brand your stores you can order just new handles for the trolleys with the new branding displayed.
To check if we have the parts you need please email us at info@formbar.co.uk with pictures of your trolleys, the spare parts you are looking for and if you know it, the manufacturer of the trolley. We will then be able to check in the workshop and let you know what we have available.
REQUIREMENT ASSESSMENT
We can send out one of our specialists to visit your site for free and advise you on what products would be best. They will look as the size of your store and the aisles to judge the size of trolley that would work for your customers, they will also advise you on trolley storage and where would be best for you to place it. They will also look at your current fleet of trolleys and baskets and tell you what needs repairing, replacing and what is fine to continue using. They will look at the surfaces in the store and take into consideration how the weather may affect the surfaces (mud for example) and then consider the best option for you and your customers.
This is a great service we offer as it will save you money as you may replace items that would have been cheaper to repair. We will be able to help you with any questions you may have and advise you what the best solution would be.
If after the assessment you have been advised that our plastic range will work well in your store but still aren't sure, we offer a trial service which you can find more information on the trial page.
Contact us if this is something you are interested in.
FABRICATION
We can fabricate trolleys, so they fit your exact requirements. If there is something specific you are after and we cannot source it, we will fabricate a trolley to match what you need.
For example, we often had garden centres asking us what we recommend to help control the movement of the traditional wire garden centre trolley, so we fabricated one ourselves to solve their problems. We added two swivel wheels towards the back of the trolley to help the customer control the direction of the trolley as well as keeping the two larger static wheels. They would also ask if we had anything that would last longer than the traditional wire garden centre trolley, so we made the welding on ours stronger and used thicker wire.
Contact us with your specific requirements and we will discuss your options.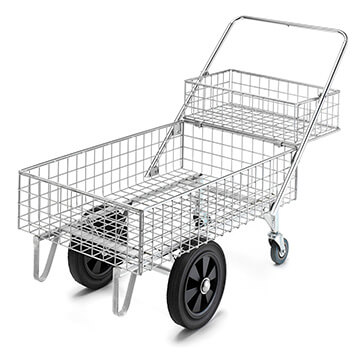 REFURBISHMENT
In this age of all businesses looking to be more environmentally sustainable and perhaps also keeping a closer eye on budgets, having your current trolley fleet fully refurbished or purchasing refurbished trolleys to match in and nest correctly is becoming more and more popular.

Refurbished trolleys go through a stepped process as follows:
The trolleys are jet washed to clean them thoroughly
The trolleys are fully serviced
The chassis is straightened, as best as possible, so wheels run in the right direction again.
Any welding is done to mend the metal work.
All parts such as wheels, castors, handles and seats are removed and the trolleys are taken to be re-plated with a new coat of plated zinc.
All removed parts are checked through thoroughly and disposed of if they are not of a good quality.
The trolleys come back to the workshop and have the parts fitted back on them.
They are then ready to be delivered back to the customers site.
While the trolleys are being refurbished we can supply trolleys on loan for customers to use.

The re-plating process is the longest and most expensive part of the process. Usually it takes two weeks from when we deliver the trolleys to the re-platers to get them back to the workshop. Some customers have everything else done on the refurbishment service except the re-plating which we are happy to arrange. In some cases, if no re-plating is required then the refurbishment work can be mainly completed on site with only a few trolleys being taken back to the workshop that need more critical mending. This can dramatically reduce the time and inconvenience to the store.

If you would like a quote for refurbishing your current fleet then do please email info@formbar.co.uk with pictures of your trolleys highlighting any particular areas of concern and we can provide a quotation for the work for you to consider.
SPECIALS
We offer many bespoke branding and colour options for our customers (quantity depending). By having bespoke trolleys and baskets you are providing a point of difference for your store and something new for your customers. A trolley or basket is the first thing the customer touches when entering your store, so it should have a positive impact on them from the moment they touch it, this creates a first impression of your store.
We can have different finishes of metal on our wire trolleys and baskets. We have created brass baskets for Fortnum and Mason and John Bell & Cryoden for example. We can also have the handles on both baskets and trolleys in your choice of colour as well as adding a logo to the handle. With our plastic trolley baskets and hand baskets, we can have them made in any colour.
We can have trolleys and baskets colour coated to any colour also, for example we provide Boots with blue baskets. We can colour the trolley basket/basket stacker to match.
Contact us and we will provide you with your quote.