At Formbar we try our best to keep the environment in mind with everything we do. For example: we only buy recycled paper, we use scrap paper for notes and printing, we only print if absolutely necessary, when ordering from our supplier in Spain we order in full truck loads so that we do not need to order as frequently like we would if we were only ordering small amounts, we also offer a hire service which you can read more about here. By having a hire service, we are reusing the same products instead of manufacturing more. We also have a refurbished selection of trolleys which are great for the environment because instead of customers buying new trolleys and more being manufactured, they can have used ones. All our plastic products can be recycled if there is no longer a need for them or they are beyond repair. We also have engineers who can come out to your store and replace/fix castors, handles, child seats, trolley locks, wheels and more. This is a cost effective and environmentally friendly way of keeping your trolleys in working order.
Recycled Shopping Carts & Baskets - Oceanis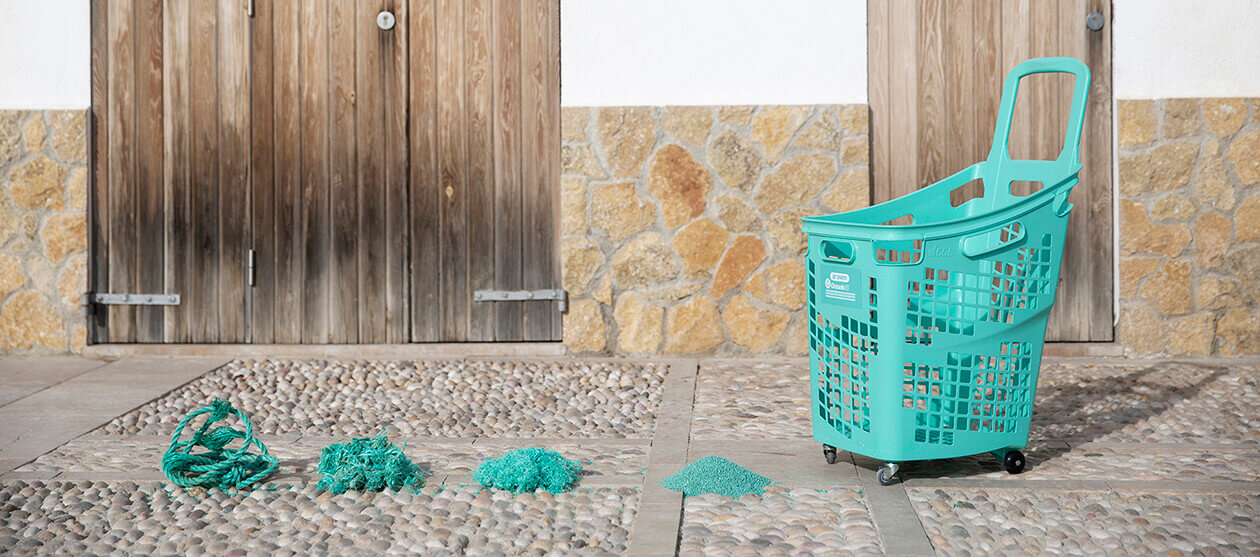 Made from recycled ocean waste plastic.
Your brand can help improve the planet.
Commercial equipment for sustainable brands
Oceanis recycled shopping carts and baskets are the most innovative range of commercial equipment developed for those brands that invest in evolving to a sustainable retail model.
Oceanis represents an important step in our constant commitment to applying innovation to the needs of our clients and our planet.
Download the Oceanis range catalogue and discover the best combined offer of recycled carts and baskets in the market.
VIEW OCEANIS PRODUCTS DOWNLOAD CATALOGUE

Oceanis recycled shopping carts and baskets continue to offer the same technical and mechanical qualities of the standard line, but they also help protect the environment by reducing by 20% the energy consumption and CO2 emissions to the atmosphere. Araven's innovative Oceanis range consists of recycled supermarket carts and shopping baskets that come in an attractive green colour but also have a black version with customisable parts according to your brand's colour.
By including this range on the market, Araven puts itself at the forefront of a circular economy model, enabling retail brands to incorporate sustainable elements in their daily activities. This new range of carts and baskets made of recycled plastic is a distinctive touch for those brands that really want to get a step ahead towards a more sustainable model.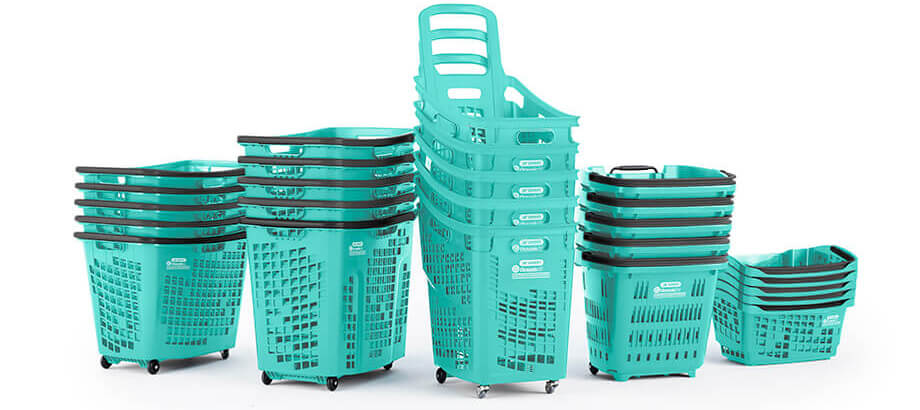 MANUFACTURING PROCESS OF RECYCLED CARTS & BASKETS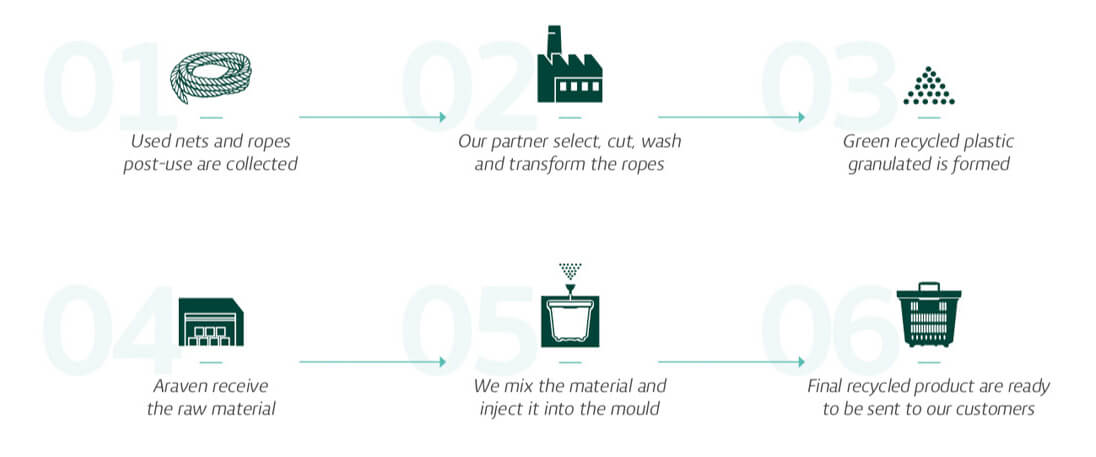 Do you know what ghost fishing is? Fishing nets and ropes that are discarded float in the ocean, trapping thousands of marine animals. Because of their weight, they fall to the bottom of the sea and, as they decompose, these nets return to the surface, starting the cycle again. In Araven, we want to work towards the protection of the environment, so we have developed this new line of eco-friendly carts and baskets. A range of commercial equipment made of reused fishing nets, recycled to become modern shopping carts and baskets.
Abandoned fishing nets and polypropylene ropes are recycled and become raw material again for the manufacturing of new baskets and carts with 25% of recycled content. So our carts and baskets are made of recycled polypropylene, and we give a second life to these fishing nets, avoiding contamination by the emission of toxic gases in the atmosphere.
This line actively helps reduce marine waste and prevent the intoxication and death of thousands of marine animals in the oceans; in addition, beneficial objectives to the environment are reached. A range designed for those brands that want to act towards promoting the planet's sustainability.
Characterised by its aquamarine colour, each Oceanis basket or cart prevents 1.5 metres of rope ending up in the sea and reduces 20 % of the greenhouse gases in the manufacturing process. In addition, Araven will donate part of the profits to the international NGO "Plastic Change".

SEE THE RANGE
Araven
We are suppliers of Araven trolley baskets, their black trolley baskets are made from recycled plastic. Araven state that "Recycling 1kg of plastic is equivalent to saving 1.5kg of CO2 emissions". The recycling process for Araven consists of collecting plastic, cleaning it, sorting it and then re-melting it for use as a raw material or as an alternative for moulding products. Araven respects the environment by using recycled materials in its products, which reduces energy consumption and decreases emissions of CO2 to the atmosphere.
Our black plastic hand baskets are also made from recycled plastic. They are made from either:
100% re-ground PP material. This is a material that has derived from scrap product manufactured at a UK injection moulding facility i.e. colour change, incomplete molds that is then reground with a black masterbatch for a uniform colour. This would be the first choice for material to produce the basket and the majority have been manufactured in this material.
Or – 100% recycled PP from post-consumer material. This is material that is bought in from the supplier if there is none of their own material in stock. The handle is manufactured from Nylon 6 (virgin material).
Polycart
Polycart plastic trolleys are made with the environment in mind, although these trolleys are plastic.
These trolleys are made from very high-quality plastic so the life span is longer than a traditional wire. Also, because they are plastic they have no scrap metal value so are never stolen, meaning you do not have to re order to replace them. These trolleys are fully recyclable when they are no longer wanted. Plastic recycling is much less energy consuming and efficient than metal recycling. Being plastic this means they do not rust, which means they do not need re plating like a wire trolley would. All manufacturing scrap parts are re-melted at the Polycart factory and then recycled into other products that do not need virgin raw materials. Unlike metal shopping trolleys no plating processes are involved in the manufacturing of the Polycart trolleys. Therefore, this avoids the use of chromic acid, hydrochloric acid, nickel chloride, nickel metal, nickel sulfate or sodium bisulfate, the manufacturing process includes plastic injection molding. During the process no toxic substance is ever dumped into landfill sites. Polycart trolleys have a tight nesting distance from 160mm to 250mm, this allows for many trolleys to be loaded onto a truck meaning the transport isn't greatly affecting the environment.
Shopping Baskets
On our website we list a range of Shopping Basket products, who make all their products with an ecofriendly alternative. Instead of black like other companies do when their products are made from recycled plastic, this company has grey – pantone 423C. Each of their products has a minimum of 95% of recycled PP – post consumer recycled material from plastic containers taken from the streets. The handle on each basket is also made from recycled plastic! The plastic is excellent quality and has such a long-life cycle it is perfect to be seen as raw material for new users after being recycled. Shopping Basket works with an external company with the capacity to produce more than 20,000 tons of post-consumer recycled polypropylene per year to avoid store breakage.
We try our best to keep up to date with different changes we need to make in order to help the environment, please let us know if there is anything else we can do.